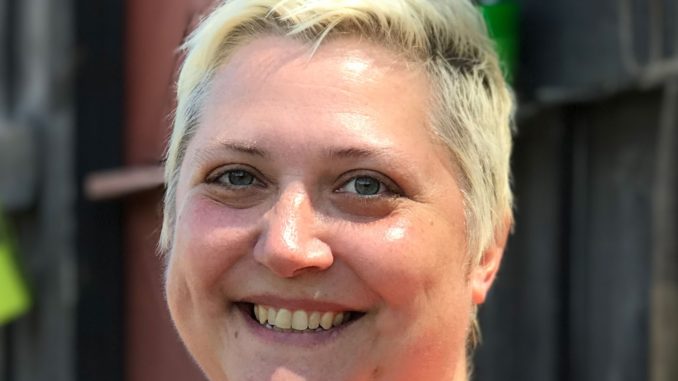 Had an interesting interview with Heather Rhoades.
Heather has lived in Bedford and Ward 5 for 16, almost 17, years now. She lived on Wandle Avenue for 15 years and then her family moved to The Lamson House almost 2 years ago. Heather is running for ward 5. I asked Heather a series of questions and here is how she responded.
1.)  Why are you running for City Council?
I am running for City Council because I believe that the current City Council is not doing enough to bring Bedford into the modern world. I think that many of them are focused more on the way things use to be rather than what the future should look like. I also believe that the City of Bedford has been poorly marketed to businesses and people outside of Bedford, which has resulted in us having a poor reputation. This poor reputation keeps us from attracting businesses and young families. I want to help make Bedford a desirable place for businesses and people to move into. I have the experience and skills needed to be able to help bring Bedford into a future that is up to date with the times and showcases itself as a desirable community.
2.)       What are some of the issues in your ward?
In my ward, I think some of the biggest issues are the number of poorly maintained rental properties and crime, especially drugs. I think that both of these issues are tightly related to each other. Poorly maintained rentals lead to cheaper and cheaper rents and high turnover rates which in turn means residents who are not invested in the community, some of whom may deal drugs or commit crimes.
3.)       What is the worst thing to happen in your ward in the last five years?
We have had a few drug related deaths in my ward. The heroine epidemic is affecting all of Northeast Ohio and it saddens me to see loved ones of people in Ward 5 taken by that epidemic.
4.)       What is the best thing to happen in your ward in the last five years?
I have started to see more houses lately get bought by people who want to live in them rather than people who just want to run them as cheap rentals. The number of foreclosures in Ward 5 seem to be going down and that is very nice to see.
5.)       How can the city support small business development and expansion?
I think we need to do a better job making the available commercial space suitable for small business owners. Right now many commercial properties in Bedford are poorly maintained and managed. For example, several storefront buildings in Downtown Bedford have sat empty for years and makes the city look blighted. Small (and large) businesses don't want to start in an area that looks like it is on its last legs. The city has even cited some of the Downtown storefronts for potentially dangerous problems but then does nothing when those landlords do not  take care of these problems. The landlords obviously feel that they do not need to maintain these properties and small businesses don't want to move into dilapidated properties or into an area that looks as though no one cares.
5.)      What do you think is the best way to stabilize the core residential neighborhoods of Bedford?
I think that we need to start making sure that residential rental properties are better maintained. When rental properties are poorly maintained, you tend to see more people who come and go from the neighborhood on a yearly basis. And you can't blame the renters for that. Someone rents a home hoping that they will be able to live there for a long time, but when the landlord refuses to fix problems or fixes problems with cheap, short term solutions, the person renting may have no choice but to move on to another home. The landlord then lowers the rent to try to get someone into a bad house and the cycle starts again. When people move in and out of a community like that, it negatively affects the schools, crime, the overall feel of the community and the ability of a community to support businesses.