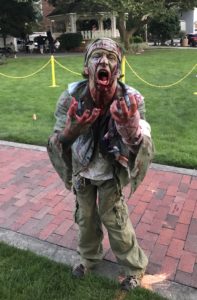 Bedford Commons was transformed into the gathering place for the 8th annual Cleveland Pagan Pride Days this past weekend.
The Undead Walking
The three-day event kicked off on Friday with the second annual Zombie Walk, a fundraiser for the Southeast Clergy Food Bank and Crossroads Universal, the group behind Cleveland Pagan Pride. Participants showed up in makeup and costumes or had their zombie face put on by artists Toni Kelly, Tammy Hess, Rachael Resnick, and Dennis Baker at the square.
Zombies and zombie hunters (and even one Ghost Buster) began arriving at 5p and signed up for the walk with a $5 donation, split between the two charities. Attendees could also participate in Zombie
Karaoke, choosing from a variety of songs– not just those associated with zombies. At 7:15p, the zombies began their walk from the square down to Los Gallos and back, making the lap twice. Passersby paused and took pictures as the group ambled past.
Rituals and Wares on the Square
On Saturday and Sunday, 50 vendors packed the square, selling goods and offering services such as natural health and beauty products, herbs, gemstones, Tarot and fortune readings. Workshops were also held throughout the weekend. Practices explored included Wiccan, Druidry, and Santeria.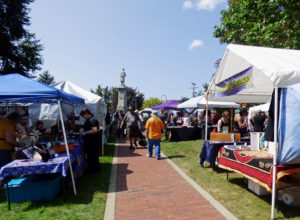 A number of acts provided an eclectic mixture of music, dance, and ambient noise for the mystical festival. Demonstrations of Tai Chi and blacksmithing provided a look into practices long associated with magick. Several groups and speakers led group rituals, providing a hands on experience for practitioners and the curious alike. And for the younger crowd, there were crafts and movie screenings
Cleveland Pagan Pride attracts thousands of people every year and encourages harmony and peace through both the nature of the event and the religions and spiritualities that it incorporates. When asked about his favorite part of the festival, artist Dennis Baker, a member of the Sisters of Perpetual Indulgence, cited the acceptance in and surrounding the event. "People of Pagan spirituality don't get that acceptance," he said.
Cleveland Pagan Pride Days is perhaps the most unique festival held in Bedford every year and often has the highest attendance. Estimates put last year's number of attendees at about 4,000. Those who come to the festival are also asked to donate 2 non-perishable food items or toiletries which would go to the Southeast Clergy Food Bank, and these donations totaled 2,000 pounds for the 2016 festival. While this festival focuses on celebrating and educating people on Pagan beliefs and rituals, it is also a great way to serve the surrounding community.