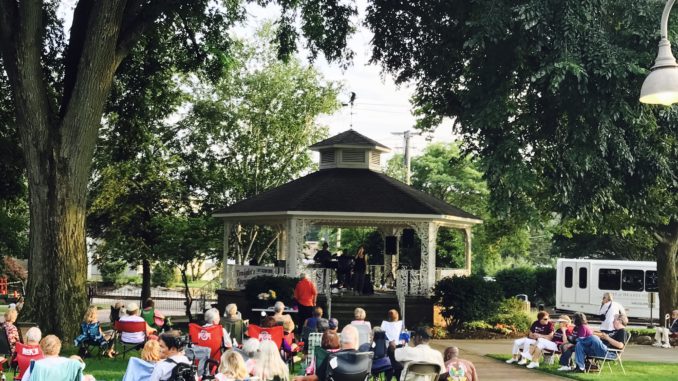 July 26th– About halfway through the summer, Blue Groove and Liz entertained at Bedford Public Square for this week's Party in the Park.
A sultry female voice floated over the Square on a cool summer breeze, backed by guitar, organ, and drums– a simple jazz quartet. The modest crowd was scattered across the lawn, ranging from elementary to elderly. They sat in wheel chairs and lawn chairs, on benches and on the grass. The band played a mix of many genres of music, and a variety of tempos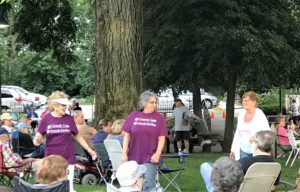 . Songs included "Jump Jive An' Wail" by Louis Prima and "What's Going On" by Marvin Gaye, "Temptation", made popular by Bing Crosby, and many others ranging from early jazz standards to iconic Motown hits.
A few ladies were on their feet, line dancing to almost every song, and one young man stood at the base of the gazebo steps, grooving and clapping to the tunes. To add to the picturesque summer evening, the smell of hot dogs on the grill wafted from Bedford Falls Cafe. People purchased sweet treats from the ice cream truck parked in front of the old church and grabbed bags of popcorn popped in front of the historical society.
Throughout the event raffle tickets were sold for items donated by local businesses, council members, and even the mayor himself– flowers from Carol James Florist; gift bags from T-Jay's Collision Center; a lawn chair from Councilman Don Saunders; and several bottles of wine from Mayor Stan Koci, among others. At the end of the night, these went to a number of people in the crowd, and proceeds raised from the sale went back to support future Parties in the Park. The event ended as night fell.
Next week's Party in the Park will begin at 6:30 pm to accommodate an earlier sunset. The featured artist will be Logan Wells.